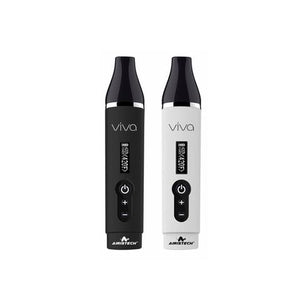 AIRISTECH HERBVA VIVA DRY HERB VAPORIZER
The Airistech VIVA is a portable vaporizer for dry herb and flower featuring an advanced OLED, digital temperature settings and has a pretty large bowl chamber for a portable vaporizer.
This highly configurable vaporizer for dry herb and flower features more fine-tuning capability than most devices of its kind. The familiar 3-button interface and OLED display function much like a DNA-style APV mod, though instead of setting your watts you can adjust the temperature anywhere from 350-450 degrees Fahrenheit. Battery life and preheat status are also displayed.
The Viva is powered by a built-in 2200mAh lithium-polymer battery. The bowl chamber on this unit is fairly large for a device of its type, so you can pack extra. The device preheats in under a minute, giving you can get a quick vape without a long wait. The Viva comes with everything you need to vape your dry herbs and maintain your device, including a packing tool, cleaning brush, charging cable, and wall adapter. The device is available in 5 great colors to suit your personality.
Includes:
1 x Airis Viva Vaporizer
1 x USB Charging Cable
1 x USB Wall Plug Adapter
1 x Packing Tool
1 x Cleaning Brush
1 x Gift Box Packaging