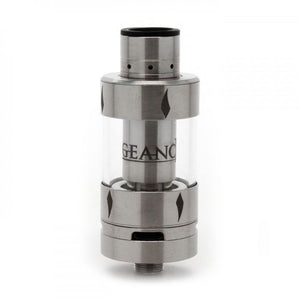 Council of Vapor Vengeance
The Vengeance Tank from Council of Vapor features airholes at the top and the bottom of the tank for variable airflow – there's four holes altogether -  that can be adjusted to your preferred settings.  Vengeance is a sleek tank, that looks great and can handle vaping from 30 Watts up to 100 Watts.
This tank comes with a pre-installed 0.2 Ohm coil which feeds from 6 wicking holes to produce great-tasting flavours.  It allows for faster wicking too.
Vengeance also features their honeycomb mesh that stops spitback.  The tank is crafted from stainless steel and tough Pyrex glass with an excellent heat-dissipating drip tip.
Kit Contents
1x Council of Vapor Vengeance Tank
1x Extra Pyrex Glass Tank
2x 0.2Ω Coil (1 Pre-Installed)
Features
304 Stainless Steel Construction
Four Variable Airflow Holes
Shorty Drip Tip with Airflow Technology
Honeycomb Shield
Advanced Heat Dissipation System
Durable Pyrex Glass Tank
0.2Ω Coil (30watts - 100watts)
6-Wick Holes for Faster Wicking