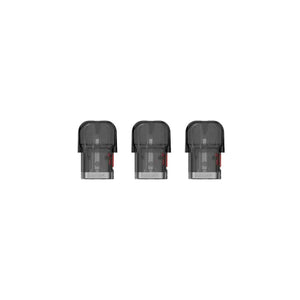 SMOK NOVO 2 CLEAR REPLACEMENT POD
SMOK NOVO 2 CLEAR REPLACEMENT POD (3 PACK) [CRC]
The SMOK NOVO 2 CLEAR REPLACEMENT POD (3-Pack) CRC Version with a totally new clear plastic pod cartridges designed for the SMOK NOVO 2, offering a MESHED 0.8OHM option and DC 0.8OHM MTL that will extract the best flavor from the loaded eJuice. 
Specifications:

MESHED 0.8OHM- Single meshed coil and large heating area. Excellent flavor and dense vapor.
DC 0.8OHM MTL-Month to lung, dual coils. The highest degree of flavor restoration.
MESHED 0.9OHM-perfect for MTL vapors, 1.8ml capacity, compatible with the new SMOK NOVO 2S POD KIT [CRC] (coming soon).


Includes:
1 x SMOK NOVO 2 CLEAR REPLACEMENT POD (3 PACK) [CRC]